Ayana V. Jackson
Présentation
Le travail d'Ayana V. Jackson explore les identités africaines et celles de la diaspora africaine à travers des approches photographiques variées, allant du reportage au portrait en passant par la performance et le travail en studio.
Utilisant son parcours en sociologie, elle crée un corps de travail qui, dans certains cas, aborde l'histoire de la représentation photographique du corps noir, et dans d'autres explore la complexité et la pluralité de l'identité du descendant Africain contemporain. Dans ses travaux récents, elle utilise son propre corps pour se mettre en scène et critiquer les photographies coloniales du milieu du 19ème et du début du 20ème siècle.
Basée à Johannesburg et à New-York, elle a exposé son travail en association avec la Galerie MOMO (Johannesburg, RSA), la Galerie Primo Marella (Milan), le musée Mexicain San Francisco (USA). Elle a également reçu des subventions de la fondation Marguerite Casey soutenant sa participation à l'édition 2009 de « Bamako Biennale africaine de la photographie ». Au sein de l'espace public elle a participé à l'exposition « Round 32 » dans le cadre du projet « Row houses »  dans la 3e circonscription de Houston (USA) Ses photographies ont été sélectionnées pour différentes publications dont le catalogue d'exposition créé pour les séries « African by Legacy, Mexican by Birth » (Africain par héritage, Mexicain de naissance), « n.paradoxa », « Souls : A Critical Journal of Black Politics, Culture, and Society » (Columbia University, Ames : un journal critique de la société, de la culture et de la politique noire africaine), Art + Auction (Art + vente aux enchères), Camera Austria, Afrique in Visu, and Dutch based ZAM magazine. Elle a donné des conférences et animé des ateliers dans les universités et les institutions artistiques à travers l'Afrique et les Amériques.
Biographie
Etudes
2005
Etudie à l'Université des Arts de Berlin, Allemagne
1995-1999
Spelman College

Expositions individuelles
2013
Gallery Sho, Tokyo, Japon
«archival impulse & poverty pornography», Galerie baudoin lebon, Paris, France
Gallery MOMO, Johannesburg, Afrique du Sud

2011
« Projection Surface », Gallery MOMO, Johannesburg, Afrique du Sud

2010
« African by Legacy, Mexican by Birth », Angkhor Photo Festival, Cambodge

2008
« Looking Glass Self », Peter Hermann Gallery, Berlin, Allemagne
2007
« African by Legacy, Mexican by Birth », Mijares Gallery en collaboration avec l?UCLA, Los Angeles, Etats-Unis
2006
« Viajes Personales », Bluefields Indian and Caribbean University, Bluefields, Nicaragua
« African by Legacy », Mexican by Birth, Guadeloupe Arts Center, San Antonio, Etats-unis
Galeria de la Raza, organisé par le San Francisco Mexican Museum, San Francisco, Etats-unis
Franklyn H.Williams Caribbean Cultural Center & African Diaspora Institute
2005
« Viajes Personales », Instituto Universitario de Barlovento, Higuerote, Venezuela;
Biblioteca Virgilio Barco, Bogota Colombia; UNAN-Leon, Leon, Nicaragua;
Museo del Hombre, Santo Domingo, Dominican Republic
African By Legacy, Mexican by Birth (Series 1), Inter-America Foundation, National Council of La Raza, Inter-Agency Consultation on Race in Latin America. Washington DC
Expositions en groupe
2012
Paris Photo 2012, Galerie Baudoin Lebon, Paris, France

2011
Paris Photo 2011, Grand Palais, Paris, France
FNB Joburg Art Fair 2011, Gallery MOMO booth, Afrique du Sud
A Tribute to Photography, Primo Marella Gallery, Milan, Italie
Kaddou Diggen: la Parole aux Femmes, Galerie Le Manage/French Institute, Dakar, Sénégal
2010
New African Photography, Gallery MOMO, Johannesburg, Afrique du Sud
ECO, SEGAW, ECHO, XIANG Project Row Houses Round 32, Houston, Etats-unis
The Mothership has Landed, Rush Arts, New York, Etats-unis
2009
8th Bamako Encounters / African Photography Biennial, Bamako, Mali
2008
« The Shoot Out : A Lonely Crusade» , Homage to Jamel Shabazz, The George and Leah McKenna Museum of African American Art, New Orleans, Etats-unis
2007
« Post Millennial Black Madonna Paradise/ Inferno », Museum of Contemporary African Diasporic Art (MoCADA) and Skylight Gallery, Brooklyn, Etats-unis
2006
« The Shoot Out », African American Museum, Philadelphia, Etats-unis
2005
« Visualized Rhythm », orgnaisé par Peter Hermann Gallery pour l?Afrika Festival, Potsdam, Allemagne
Assembly International, Tara Herbst and Nicolas Siepen for Kulturstiftung des Bundes, Berlin, Germany
2004
El Negro Mas Chulo: « African by Legacy, Mexican by Birth », A Gathering of the Tribes Gallery, New York, NY
« Indocile Identities », Amrita Arts for Pool Art Addict, New York, NY
« Homecoming », Rush Arts Gallery for Phatfarm Flagship Store, New York, NY
Black Fine Art Show, Rush Arts Gallery, New York, NY
Résidences de l'Artiste

2010
Gallery MOMO/Goethe Institute, Johannesburg, South Africa
Light Works, Syracuse, NY, Louisiana Art Works, New Orleans, LA.
2009
Cite International des Arts, Paris France,
New Jersey City University, Jersey City, NJ.
2006
The Bakery Photographic Collective, Portland, Maine.
Commissions

World Bank Collection, Washington DC
Wedge Collection, Toronto, Canada
Alcatel Lucent Foundation, New Jersey USA
Publications

2011
FNB Joburg Art Fair 2011 Catalogue, featured artist for Gallery MOMO
L?Institut Francais, Dakar, Kaddou Diggen, La Parole Aux Femmes Exhibition catalogue
2010
City Press (South Africa), Citizen of the World, Gail Smith.
2009
Bamako Encounters Exhibition Catalogue.
African by Legacy, Mexican by Birth exhibition catalogue, Unilan Publishing Co.
Camera Austria Issue 107.
2007
Sunday Times (South Africa), The Big Picture, Sean O?Toole, December 2007
2006
African by Legacy, Mexican by Birth Exhibition Catalogue,
2004
SOULS : A Critical Journal of Black Politics, Culture, and Society, (Cover image) Vol. 6, #2, Spring 2004 (Colombia University)
Expositions
Publication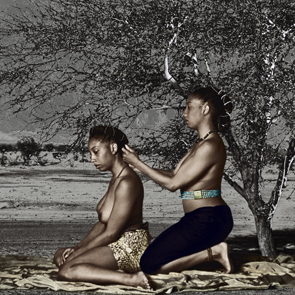 artistes :
editeur : Baudoin Lebon
prix public : 20 €
artistes : Ayana V. Jackson
auteur : Ayana V. Jackson et Achille Mbembe
editeur : Baudoin Lebon
langue : Français / Anglais
pays : France/ Afrique du Sud
format : 21 x 21 cm
reliure : carré collé cousu