Introduction
A-Sun WU was born in Taiwan in 1942. He lives and works in Taipei and Paris from the 1990's.
baudoin lebon displays the work of A-Sun Wu whom presents his artworks in chinese ink. The artist, a traveler, draws his inspiration and recreates what he discovers during his travels.
In the chaos of our world, Mankind becomes the center of his project.
The main preoccupation of A-Sun Wu is Mankind and this since the 1970's.
Inspired by his childhood?s memories in Taiwan, A-Sun Wu painted vast, colorful, dynamic and Asian paintings.
His discovery of other continents in the 1980's (almost 30 countries visited in Africa) opened up the scope of possibilities and the mark left by the culture of the natives transpires into his works.
With the researches he conducted and the primitive energy that stems from it, A-Sun Wu transcribes in his works, his vision of a world in which Mankind is confronted with his natural environment.
His work keeps evolving. Chinese ink currently dominates. A slight touch of color appears sometimes but the most important is already said.
The breath (qi), the mind and the essence of things (tao) summarizes this intuitive painting in which the inner force prevails over resemblance and shape.
This powerful style is translated by a violent gesture which one can find in A-Sun Wu Mount Huang?s landscapes or in the portraits of the tribes he met during his travels.
Biography
Solo exhibitions (selected)
2018
Encre sauvage, baudoin lebon, Paris
Intuition, Memory, Primitive Energy : A-Sun Wu Retrospective, National Taiwan Museum of Fine Arts, Taichung, Taiwan.
2017
A Primitive Modern : A-Sun Wu, Touquet-Paris-Plage, France
The Purity and Harmony of the Wild, VIP Room in Taipei 101, Taiwan.
The Potentiality of Vitality, Temple Fo Guang Shan, Paris, France. 
A Primitive Modern : A-Sun Wu, Art Center La Chapelle (baudoin lebon), France
A Conversation between A-Sun Wu and Primitive, Sunny Art Museum, Hsinchu, Taiwan.
2016
Vallois Gallery, Paris, France
2015
Taylor Foundation, Paris, France

Arki Gallery, Taipei, Taiwan

Créatures, Temple Xingtian Gong, Taipei, Taiwan

Galerie Yohann, Paris, France
2014
Danse dans la jungle, Maison des Arts, Paris, France
L'Encre fou, Institut Xue-Xue, Taïpei, Taïwan

Exposition de sculptures, Parc national Yangmingshan, Taipei, Taiwan

Traversant la jungle, National Gallery, Dominican Republic
2013
Knokke, Momentum Art Gallery, Belgium

Friedman Vallois Gallery, New York, USA

Local council Art Gallery of Contemporary Art Giovanni de Gaeta, Gaeta, Italy
2012
En traversant la nature, Art Center of Taichung Harbour, Taiwan
Recent works, baudoin lebon, Paris, France
2011
Sapone Gallery, Nice, France

Vallois Gallery, Paris, France

Park of Cultural and Creativ Industry, Taichung, Taiwan
2010                             
Cultural Center of Taichung, Taichung, Taiwan

Cultural Center of Hualian, Hualian, Taiwan

Cultural Center of Yilan, Yilan, Taiwan
2009
Jungle : Inspirations révélatrices, Russian National Museum (Marble Palace), St. Petersburg, Russia

9Invited by the japanese association SOKA in Taiwan ; view exhibitions in Taiwan
2008
L'huan Tie Times Art Gallery, Beijing, China

Elément de valeur Gallery, Beijing, China

Arts Center Pont de Pékin, Beijing, China

Vivre dans la jungle, Stock n° 20, Taichung, Taiwan
2007
Sapone Gallery, Nice, France
2006
Vallois Gallery, Paris, France

Sparts Gallery, Paris, France

Saint-Libéral Chapel, Brive-la-Gaillarde, France
2005
Vallois Gallery, Paris, France
2004
Ming-Yuan Gallery, Shanghai, China

Sapone Gallery, Nice, France

National Gallery in Memorial Museum Sun Yah-Sen, Taipei, Taiwan
2003
Pierre-Marie Vitoux Gallery, Paris, France

Antonio Sapone Foundation, Bellona, Italy
2002
Rétrospective, National Gallery, Principality of Andorre

Manif Art Fair, Seoul, South Korea

Exhibition hall of the Almodi, Valencia, Spain
2001
Art Paris Art Fair, with the Arnoux Gallery, Paris, France

Art Fair, with the Dorval Gallery, Strasbourg, France

Duchoze Gallery, Rouen, France
2000
Orangerie of Jardin du Luxembourg, Paris, France

Paul Valéry Museum, Sète, France

Greca Gallery, with Miro, Saura and Gordillo, Barcelona, Spain
1998
Gallery of the Trianon de Bagatelle, Paris, France

Hanart Gallery, Taipei, Taiwan
1997
Pu-Ten Museum, Okinawa, Japan
1996
National Gallery Chung-Shan, Taipei, Taiwan
1995
Shibuya Seibu, Cultural Center of Seibu, Department Store Tokyo, Japan
1994
Lan-Kwai-Fong Gallery, Hong Kong

Notices Gallery, Singapor
1993
Winner Gallery, Chicago, USA
1992
Hakone Open Air Museum, Japan
Group exhibitions (selected)

2018
Art en Capital, Grand-Palais, Paris
2017
Exhibition A-Sun Wu / Paloma Chang, Vallois Gallery, Paris
2016
Art Elysées, with baudoin lebon, Paris, France
2015
Exhibition of Sculpture, National Park of Yangmingshan, Taipei, Taiwan

Art Elysées, with baudoin lebon, Paris, France

KIAF, with baudoin lebon, Seoul, South Korea
2014
Art Elysées, with baudoin lebon, Paris, France
2013
Salon Comparaison, Grand Palais, Paris, France

Légendes du Pacifique Nord, Friedman & Vallois Gallery, New York, USA

Art Elysées, with baudoin lebon, Paris, France
2012
Art Elysées, with baudoin lebon, Paris, France

Art Taipei, withYoshii Gallery, Taipei, Taiwan
2011
Art en Capital, Salon Comparaisons, Grand Palais, Paris, France

Vallois Gallery, Paris, France
2010 
Art en Capital, Salon Comparaisons, Grand Palais, Paris, France
150e Anniversaire de l?Angélus, invited by the town of Barbizon, France
2009
Art en Capital, Salon Comparaisons, Grand Palais, Paris, France
2008
Art en Capital, Salon Comparaisons, Grand Palais, Paris, France
Arte Fiera, 32th edition, Bologna, Italy
2007
La Passerelle Gallery, Rouen, France

Escaliers : la verticale du possible, Charlotte Norberg Gallery, Paris, France

Triennial of Sculpture, Antwerpen, Belgium
2006
Transgression, Bihan le Meyer Gallery, Paris, France
2005
L'enfance de l'Art, Pierre-Marie Vitoux Gallery, Paris, France
9th Pavillon, Jardin des Tuileries, Paris, France
2003
Museum of Modern Art of Taipei, Taipei, Taiwan

Cultural Center of Taïwan in San Francisco, USA
2001
Le Bois dans l'art contemporain, Espace Belleville, Paris, France 
2000
L'Homme qui marche, Jardin du Palais Royal, Paris, France

Den Haag Sculptuur 2000, The Hague, The Netherlands  
1998
Exhibition organized by the association of japanese art critics, Tokyo-Kyoto-Osaka, Japan

Coupe du monde 98, Navarra Gallery, Paris, France
1997
Chin-Yi-Siuan Gallery, Vancouver, Canada

Hilton Center Gallery, with Zao Wou ki and Szeto Lap, Singapore
public collections
Municipal Museum of Taipei, Taiwan

Municipal Museum of Kaoshiung, Taiwan

Museum of Modern Art, San Paulo, Brasil

Hakone Open Air Museum, Japan

Utsucushi-Ga-Hara Open-Air Museum, Nagano, Japan

Museum of Art og the 20th Century, Ito, Japan

City of Santo Tirso, Portugal

Pu-Ten Museum, Okinawa, Japan

Unesco, New York, USA

Museum of Villafames, Valencia, Spain

National Gallery of Andorre, Andorre

Paul Valéry Museum, Sète, France

Stämpfli Foundation, Sitges, Spain
Exhibitions
Publication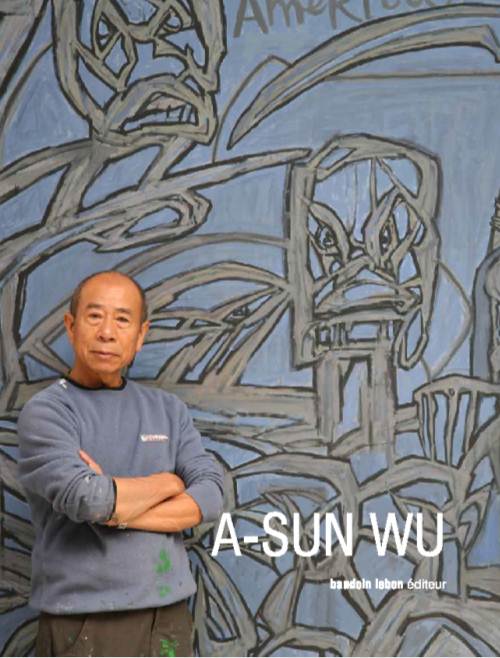 artists :
author : A-Sun Wu
editor : baudoin lebon
public price : 29 €
langue : Français/Anglais
pays : France
pages : 128
format : 23 x 29 cm